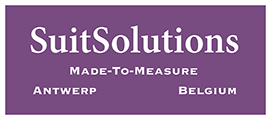 TOUCHING UP
From sewing on a button, over repairing a tear in your favorite dress or jeans, to fully update a jacket or overcoat.
SuitSolutions will work with you towards a creative solution for any problem.
Besides, there are no two people that have the same measurements. Everyone has his or her own figure, bone structure and body proportions.
We will help you accentuate your strengths and camouflaging the weaknesses of your figure.
Existing Clothing
You probably have several clothes in the wardrobe whose design is no longer up to date. Especially in these difficult economic times you ask yourself: "Should I throw them away or what do I do with them?"
We update your existing clothes and give them a second life.
Fur
Some clothes have a sentimental value - think of the beautiful fur coat from your dear grandmother. Furthermore fur seems to be made for a second and even a third life. We can take the fur coat or completely redesign it.
We transform a long fur coat into a coquettish jacket which you will still enjoy for years and years. Or fur can be used for collars and other accessories.
New Clothes
Have you recently purchased a new piece of clothing, but there are still a few interventions needed to make it fit perfect?
SuitSolutions will touch up your clothing like it was custom made just for you.