MADE-TO-MEASURE

SuitSolutions offers the modern stylish man made-to-measure tailoring. The SuitSolutions Made-to-Measure Collection is made according to the traditional artisanal methods with durable quality materials.
Your tailoring step by step ...
The Fabrics
Back To Top

A high quality wool with a good easy-care is the basis of a nice suit. We work with the qualities Super 100 to Super 150, which provide the ultimate comfort.
We work with durable high quality fabrics such as Vitale Barberis, Ariston , Holland & Sherry, Scabal, etc.
There are different levels of quality and obviously every fabric quality has its own price.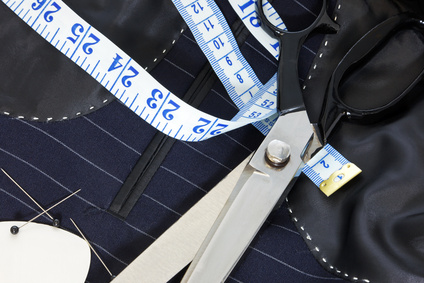 During the summer we work with lighter wool, but we have also a nice collection of cotton, linens and for example blends of wool with silk.
Especially for autumn and winter we can make suits in thicker wool for you.
The Combination
Over the past years, the combination is a clear winner - a jacket with a different pair of trousers - more based on the traditional two-piece suit. Therefore we offer you a wide variety of fabrics specificly made for such jackets and trousers.
So you can opt for jackets from a wide variety of fabrics, with variations for each season. There are wool, cotton and linens, both plain and in various designs such as diamonds or stripes.
For the trousers, we have a large collection of fabrics, with which we can create both dressed like or a sportive look.
Overcoats
We also offer a very nice selection of special wool and cashmere fabrics for overcoats. But you can obviously ask the overcoat to be made in any other fabric that we offer.
We choose - together with you - the quality, color and design.
The Clothing Cut
Back To Top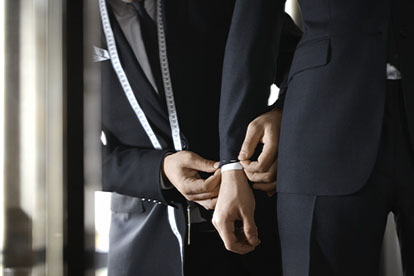 We choose - together with you - the style that best suits your figure and body proportions.
The Details
Back To Top

The finishing touch. You choose - with us - the details that transform your suit into a unique specimen. This can be done by the choice of the knots in a matching or contrasting color.
Or by the color of the stitching, such as a different color, a matching color or just different color for lining often creates a surprising effect .... These are the kind of little details that make your made-to-measure suit an exclusive and unique specimen.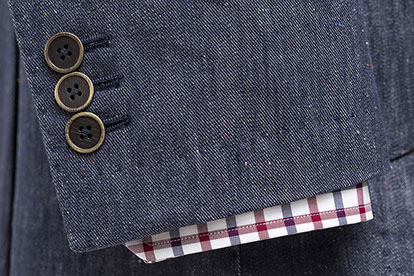 The Order
Back To Top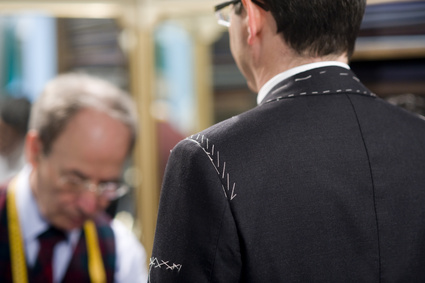 All we need for this unique specimen designed by and for you - are your correct body measurements which are measured by the manager himself.
The order
After all the data and choices have been made, your personalized suit is ready to be ordered.
Costs
You'll notice that customization does not have to be expensive.
Delivery
After your order is completed, it will take approximately 2 to 4 weeks (depending on your order) before your suit will be available in our workshop.
We will contact you and ask you to stop by for a fitting session. We obviously want, that it fits perfectly and be sure that there is no retouch required anywhere.
After all, our motto is not for nothing "Made with Passion".
We are delighted to welcome you in one of Antwerp's most leading businesses in fashion, suits and ceremony clothing.

We are dedicated to help you with our passion for style, at SuitSolutions it is all about you and your expectations.

Anything you would like to see, you can find in SuitSolutions. From modern casual suits to very expensive ones, all here at SuitSolutions, just for you...


SuitSolutions,
Your Style, Is our Pride...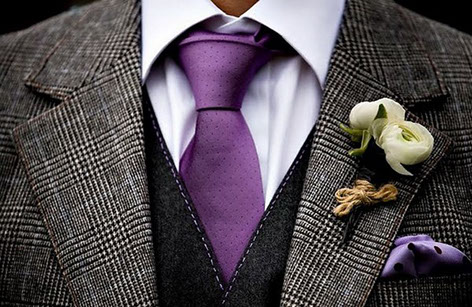 SuitSolutions ® and SuitSolution ® Logo is a trademark of TheFinalTouch ®
Copyright © 2016 SuitSolutions made-to-measure GmbH - All Rights Reserved
e-mail


Phone
Mobile

Back To Top